Largely due to subduction, oceanic crust is much, much younger than continental crust. The oldest existing oceanic crust is in the Ionian Sea, part of the eastern Mediterranean basin. The seafloor of the Ionian Sea is about 270 million years old. (The oldest parts of continental crust, on the other hand, are more than 4 billion years old.)
Continental crust is almost always much older than oceanic crust. Because continental crust is rarely destroyed and recycled in the process of subduction, some sections of continental crust are nearly as old as the Earth itself.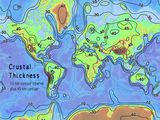 Mining Temperature
The TauTona and Mponeng gold mines of South Africa are the deepest in the world, descending about 4 kilometers (2.5 miles) below the surface of the Earth. Although those are deep mines, they are shallow crust. Still, temperatures at the bottom of the mines can climb to 55° Celsius (131° Fahrenheit). A sophisticated air conditioning system lowers the temperature to allow miners to work.
Old Crust
The oldest rocks yet identified on Earth were discovered in the Jack Hills of Western Australia, part of the Yilgarn Craton, a shield formation. The Jack Hills zircons are about 4.4 billion years old. (The Earth itself is about 4.6 billion years old!)
Silicates, Silicates Everywhere
Silicate minerals, mostly feldspars and quartz, are the most abundant minerals in Earth's rocky crust.