Ice and liquid water can also contribute to physical erosion as their movement forces rocks to crash together or crack apart. Some rocks shatter and crumble, while others are worn away. River rocks are often much smoother than rocks found elsewhere, for instance, because they have been eroded by constant contact with other river rocks.
Rainfall produces four types of soil erosion: splash erosion, sheet erosion, rill erosion, and gully erosion.
Some of the natural factors impacting erosion in a landscape include climate, topography, vegetation, and tectonic activity.
Erosion is a natural process, but human activity can make it happen more quickly.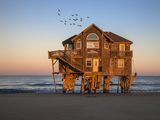 Solar Erosion
The sun itself is actually an instrument of erosion! As rocks heat up, they expand. Expanding rocks can sometimes crack and crumble away.
Eroding Animals
Burrowing animals, such as beetles and worms, contribute to erosion by displacing soil.
Far-Flung Dust
Wind is a powerful force. It can carry huge amounts of dust over long distances. In the winter and spring of 2004, winds eroded 45 million tons of dust from a spot called the Bodele Depression in the desert of northern Chad all the way across the Atlantic Ocean to Brazil.