A landform is a feature on the Earth's surface that is part of the terrain. Mountains, hills, plateaus, and plains are the four major types of landforms. Minor landforms include buttes, canyons, valleys, and basins.

Tectonic plate movement under the Earth can create landforms by pushing up mountains and hills. Erosion by water and wind can wear down land and create landforms like valleys and canyons. Both processes happen over a long period of time, sometimes millions of years.

It took 6 million years, in fact, for the Colorado River to carve out the Grand Canyon in the U.S. state of Arizona. The Grand Canyon is 446 kilometers (277 miles) long.

The highest landform on Earth is a mountain: Mount Everest in Nepal. It measures 8,850 meters (29,035 feet) above sea level. It is part of the Himalaya range that runs across several countries in Asia.

Landforms can exist under water in the form of mountain ranges and basins under the sea. The Mariana Trench, the deepest landform on Earth, is in the South Pacific Ocean.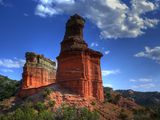 And It's Getting Deeper
At the Grand Canyons deepest point, it is over a mile (1.83 kilometers) from its top to its floor.
a dip or depression in the surface of the land or ocean floor.
single hill or rock formation that rises sharply from a flat landscape, usually in a desert.
deep, narrow valley with steep sides.
our planet, the third from the Sun. The Earth is the only place in the known universe that supports life.
act in which earth is worn away, often by water, wind, or ice.
Grand Canyon
large gorge made by the Colorado River in the U.S. state of Arizona.
land that rises above its surroundings and has a rounded summit, usually less than 300 meters (1,000 feet).
Himalaya Mountains
mountain range that extends for about 2,500 kilometers (1,550 miles), separating the Indian subcontinent from the rest of Asia.
specific natural feature on the Earth's surface.
Mariana Trench
deepest place on Earth, located in the South Pacific Ocean at 11,000 meters (36,198 feet) at its deepest.
mountain
landmass that forms as tectonic plates interact with each other.
mountain range
series or chain of mountains that are close together.
Mount Everest
highest spot on Earth, approximately 8,850 meters (29,035 feet). Mount Everest is part of the Himalaya and straddles the border of Nepal and China.
flat, smooth area at a low elevation.
large region that is higher than the surrounding area and relatively flat.
base level for measuring elevations. Sea level is determined by measurements taken over a 19-year cycle.
tectonic plate
massive slab of solid rock made up of Earth's lithosphere (crust and upper mantle). Also called lithospheric plate.
terrain
topographic features of an area.
valley
depression in the Earth between hills.
movement of air (from a high pressure zone to a low pressure zone) caused by the uneven heating of the Earth by the sun.