Marine ecosystems are aquatic environments with high levels of dissolved salt, such as those found in or near the ocean. Marine ecosystems are defined by their unique biotic (living) and abiotic (nonliving) factors. Biotic factors include plants, animals, and microbes; important abiotic factors include the amount of sunlight in the ecosystem, the amount of oxygen and nutrients dissolved in the water, proximity to land, depth, and temperature.

Sunlight is one the most important abiotic factors for marine ecosystems. It's so important that scientists classify parts of marine ecosystems—up to three—by the amount of light they receive. The topmost part of a marine ecosystem is the euphotic zone, extending down as far as 200 meters (656 feet) below the surface. At this depth, there is sufficient light for regular photosynthetic activity. Most marine life inhabits this zone. Below the euphotic zone is the dysphotic zone, which can reach from 200 to as deep as 1,000 meters (656 to 3,280 feet) below the surface. At these depths, sunlight is still available, but only enough to facilitate some photosynthesis. Below the dysphotic zone lies the aphotic zone, which does not receive any sunlight.

Types of Marine Ecosystems

Scientists divide marine ecosystems into several broad categories, although there are discrepancies depending on the source about what qualifies as a marine ecosystem. The number of marine ecosystems is actively debated. Although there is some disagreement, several types of marine ecosystems are largely agreed on: estuaries, salt marshes, mangrove forests, coral reefs, the open ocean, and the deep-sea ocean.

An estuary is a coastal zone where oceans meets rivers. Here, nutrients and salts from the ocean mix with those from the river in regions sheltered from extreme weather. As a result, estuaries are among the most productive places on Earth and support many types of life. In addition, because they are located where rivers join the ocean, estuaries have traditionally supported many human communities and activities like fishing, shipping, and transportation.

While estuaries form where ocean meets rivers, salt marshes occur where oceans meets land. These places are rich in nutrients from sediment brought in by the ocean. Marshes are regularly flooded by high tides, making the surrounding ground wet and salty. As a result, the soil is low in oxygen and filled with decomposing matter. These ecosystems are dominated by low-growing shrubs and grasses.

Another coastal ecosystem is the mangrove forest. Mangrove forests are found in tropical areas. Thesee ecosystems frequently flood with ocean water, submerging the roots of mangrove trees. The root systems of mangroves filter out salt and sit above ground to access oxygen. These trees provide a home for a variety of species. Animals, such as fish, crabs, shrimp, reptiles, and amphibians, live among the mangrove's roots while its canopy provides a nesting site for birds.

A bit farther out into the tropical sea are coral reefs, euphotic-zone ecosystems built from the exoskeleton secreted by coral polyps. These exoskeletons form complex structures that shelter many different organisms. Coral reefs are extremely diverse ecosystems that host sponges, crustaceans, mollusks, fish, turtles, sharks, dolphins, and many more creatures. By some counts, coral reefs can account for a quarter of all ocean species.

Beyond the coral reefs lies the open ocean. Open ocean ecosystems vary widely as the depth of the ocean changes. At the surface of the ocean, the euphotic zone, the ecosystem receives plenty of light and oxygen, is fairly warm, and supports many photosynthetic organisms. Many of the organisms that we associate with marine ecosystems, such as whales, dolphins, octopi, and sharks, live in the open ocean.

As the depth of the ocean increases, it gets darker, colder, and with less available oxygen. Organisms living in deep-sea ecosystems within the dysphotic and aphotic zones have unusual adaptations that help them survive in these challenging environments. Some organisms have extremely large mouths that allow them to catch whatever nutrients fall from shallower ocean depths. Others have adapted to get their energy via chemosynthesis of chemicals from hydrothermal vents.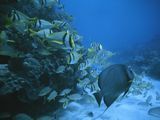 abiotic
lacking or absent of life.
a modification of an organism or its parts that makes it more fit for existence. An adaptation is passed from generation to generation.
aphotic zone
the deepest ocean zone, below 914 meters (3,000 feet). Also known as the midnight or bathypelagic zone.
aquatic ecosystem
a freshwater or marine ecosystem.
biotic
having to do with living or once-living organisms.
tiny ocean animal, some of which secrete calcium carbonate to form reefs.
steady, predictable flow of fluid within a larger body of that fluid.
dysphotic zone
middle zone of the open ocean. On average, this zone extends from about 600 to 3,000 feet. Also known as the twilight or mesopelagic zone.
community and interactions of living and nonliving things in an area.
mouth of a river where the river's current meets the sea's tide.
euphotic zone
upper zone of the ocean. This zone goes down to approximately 600 feet. Also called the epipelagic or sunlit zone.
oxygen
chemical element with the symbol O, whose gas form is 21% of the Earth's atmosphere.
salt marsh
coastal wetland that is flooded with seawater, often by tides.
degree of hotness or coldness measured by a thermometer with a numerical scale.
rise and fall of the ocean's waters, caused by the gravitational pull of the moon and sun.
state of the atmosphere, including temperature, atmospheric pressure, wind, humidity, precipitation, and cloudiness.