Very few active rift valleys are found on continental lithosphere. The East African Rift, the Baikal Rift Valley, the West Antarctic Rift, and the Rio Grande Rift are Earth's major active continental rift valleys. The East African Rift is part of the "Great Rift Valley" system discussed below.
The Gregory Rift stretches from the Red Sea and the Arabian Sea to as far south as Mount Kilimanjaro. One of the most important features of the Gregory Rift is the Afar Triple Junction, found where the Horn of Africa straddles the Red Sea and the Gulf of Aden in the Arabian Sea. At the Afar Triple Junction, the Arabian plate, Nubian plate and Somali plate are all tearing away from each other.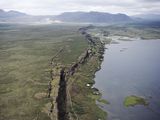 Grabens
Rift valleys are sometimes called grabens, which means "ditch" in German. While there is no official distinction between a graben and a rift valley, a graben usually describes a small rift valley.
Lakes in the Rift
Not all lakes located around the East African Rift are rift lakes. Lake Victoria, the largest freshwater lake in Africa, is not a rift lake, for instance. Lake Victoria's basin formed as mountains uplifted around it. It did not sink as a result of the nearby East African Rift.
Finds in the Rift
Many, many important paleoanthropological discoveries have been made in the East African Rift, nicknamed the "cradle of humanity." "Lucy," for instance, is a 3.2 million-year-old hominin skeleton that was discovered in Ethiopia, while "Turkana Boy" is a 1.5-million-year old hominin skeleton unearthed in Kenya. Scientists think that the tectonic activity that created the East African Rift also contributed to creating an environment that was ideal to the proliferation of life. The continual erosion of the cliffs of East African Rift also contribute to the dozens of discoveries.
Valles Marineris
The largest and deepest rift valley yet discovered is not on Earth—it's on Mars. Valles Marineris was formed millions of years ago, when the rocky Martian lithosphere was still rifting and shifting. Valles Marineris reaches depths of up to 7 kilometers (4 miles) and spans about 4,000 kilometers (2,500 miles) long. That's about 20% of the diameter of Mars itself!
Let Her Rift
With so much volcanic and tectonic activity going on there, the East African Rift Valley is a potent power source. The United Nations Environment Program is developing a geothermal energy program that would tap into this potential. The program would convert the heat created by the rift valley's underground activity into electricity through a series of steam wells. One of the wells in Kenya produces enough power for 5,700 homes! If successful, this program would provide a sustainable energy source for millions of people, many of whom do not have access to electricity today.