Honeycomb weathering is associated with haloclasty. As its name implies, honeycomb weathering describes rock formations with hundreds or even thousands of pits formed by the growth of salt crystals. Honeycomb weathering is common in coastal areas, where sea sprays constantly force rocks to interact with salts.
Animals that tunnel underground, such as moles and prairie dogs, also work to break apart rock and soil. Other animals dig and trample rock aboveground, causing rock to slowly crumble.
Carlsbad Caverns National Park, in the U.S. state of New Mexico, includes more than 119 limestone caves created by weathering and erosion. The largest is called the Big Room. With an area of about 33,210 square meters (357,469 square feet), the Big Room is the size of six football fields.
Weathering is a natural process, but human activities can speed it up.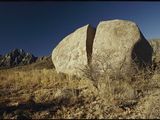 Spheroidal Weathering
Spheroidal weathering is a form of chemical weathering that occurs when a rectangular block is weathered from three sides at the corners and from two sides along its edges. It is also called "onion skin" weathering.
Weathered Mountains
The Appalachian Mountains in eastern North America once towered more than 9,000 meters (30,000 feet) high—taller than Mount Everest! Over millions of years, weathering and erosion have worn them down. Today, the highest Appalachian peak reaches just 2,037 meters (6,684 feet) high.